When it comes to pests, few bugs are as useless as the roach.  It may be food for a few other creatures, but that's about it.  Unfortunately, its natural enemies can't follow it into your home or business.  Even if they could, they'd be unwelcome. There's just one thing to do.  Hire a good exterminator for roaches.
Carter Pest Control provides services to homeowners and businesses that need to eliminate roaches, spiders, ants and other indoor pests.  If you hire us, we'll send an experienced roach exterminator to take care of your property.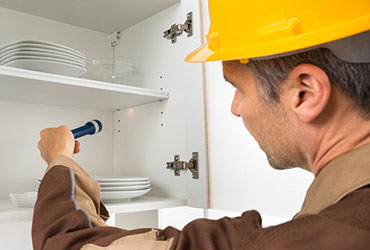 What to Do if You See a Cockroach
Where there is one roach, there are many more behind the scenes.  If you want to have peace of mind, you should act immediately.  Our team of local exterminators for roaches are ready with the know-how to make roaches a thing of the past.
Can Pest Control Get Rid of Roaches ?
Our methods are effective against roaches today and will reduce the chances that they will come back in large numbers.  Regular roach pest control ensures that these unwanted guests are eliminated at every stage in their life cycle.
You can choose over-the-counter remedies instead of an exterminator Dallas, but you won't get the expert touch.  Store bought chemicals are dangerous to the inexperienced.  We've got the equipment and expertise we need to be extremely careful at your home.  Our applications won't needlessly expose anyone in your family.  Furthermore, our efforts work. You may spray and spray and still have roaches in your kitchen.
Spider Danger
The Brown Recluse spider is a danger in many households in the Dallas Fort Worth area.  It's more than a nuisance.  It has venom that can cause pain, infection and, for some, a danger to life itself.  Other spiders leave their trash around our houses, and many have a bite that we'd rather avoid.  As a leading exterminator Dallas, Carter Pest Control can be your ally in keeping spiders out of your home.
Ants on the Prowl
Ants are not invited to the party, but they come anyway.  They show up in our kitchens and our bathrooms. They may be found wandering through the dining room, living room or anywhere food is eaten.  You can keep them out with help from the Carter team of experts.  It will save you a lot of hassle and make your house feel more like a home.
Red ants are dangerous. If they show up in your yard or on your business property, you'll want to act decisively to kill the colony and end the threat.  Our team is experienced in dealing with red ants safely and thoroughly.
Is Monthly or Quarterly Pest Control Worth It?
Most businesses choose monthly pest control to make sure their customers never encounter a roach. This site approach is a cost-effective, especially in our climate. Without a long freeze, the life cycle never slows down, and the bugs just keep coming.
Homeowners may need only quarterly pest control to keep roaches under control. If you do see any infestation, then you just call us for an immediate response to your problem. We control all types of pests, including pesky ants, spiders, and stinging insects.  Don't wait until a roach embarasses you in front of your guests.
Schedule Now
If you are seeing roaches, it's time for an exterminator.  Call Carter Pest Control Dallas TX for a free quote.